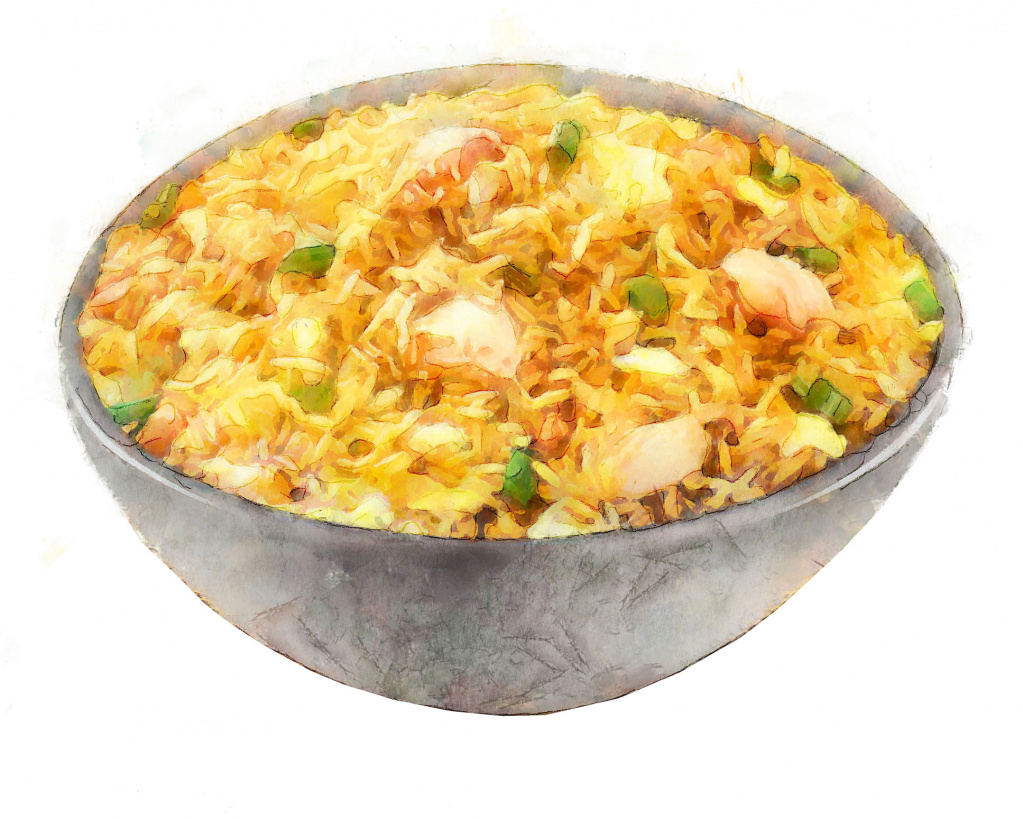 One of the typical dishes of Peru which contains a mixture of Peruvian flavors with an Asian influence is "chaufa" with different versions through the years. Its name dates back to the mid-19th century, around 1848, when thousands of Chinese immigrants arrived in America, known as "culies". As is known, this dish was created after they settled, initially, in agricultural areas. In exchange for their working hours, the Chinese charged a daily ration of 1.5 pounds of rice, combined with spices. They took full advantage of the food they were given and liked to combine different ingredients with rice. This is how the dish that we know today as "chaufa" was originated, which comes from the Chinese word "炒饭" (pinyin or phonetically "Chǎo fàn") which means "Chǎo" = rice and "fàn" = fried.
Over time, more Peruvian ingredients were added, so it went through different forms of preparation. This time we wanted to bring you a traditional chaufa recipe, but with quinoa as a base ingredient instead of rice. Quinoa is high in fiber, has a low glycemic index, and is loaded with antioxidants.
For this preparation, you can use the quinoa in grains of Naturandes that will be enough for 4 dishes. Here are the INGREDIENTS for this delicious dish:
1 1/4 cup of quinoa in grains (or the 250 g of Naturandes's container of quinoa in grains)

04 eggs

01 chicken breast cut medium dice

200 gr of sausage cut into slices

Olive oil for cooking or vegetable oil (you can also use natural coconut oil for cooking)

Soy sauce

01 tbsp. sesame oil

01 bundle of Chinese onion, cut into small slices

1 tsp. finely chopped ginger

Salt and pepper to taste
PREPARATION:
Pour 2 1/2 cups of water into a medium pot and bring to a boil.

Wash the quinoa and strain it before bringing it to a boil. (This step is not necessary for Naturandes quinoa.)

Put the quinoa in the pot and stir for a few seconds. Cook, covering the pot, over low heat for 15 minutes.

Once it's done, you need to turn it off and keep it in the pot to keep it warm.

While the quinoa is being prepared, you can season the minced chicken with salt and pepper to taste. Then fry it in the vegetable oil of your choice to seal it in.

During this process, you can prepare an omelet with the four eggs in a pan. You just have to beat the four eggs for a few seconds until the yolks disappear and fry them in the pan. Then, you place it on a flat surface to cut it into small squares.

After sealing the chicken, do not throw away the used oil, use the pot or the same pan to mix the other ingredients.

Pour the chopped Chinese onion into the pot or pan, which already has oil in it, and stir over medium heat for 5 minutes until it takes on a more intense color.

Pour the tsp. of ginger and stir. Also, add the tbsp. of sesame oil.

Place the sealed chicken and stir all the ingredients adding a splash of soy sauce.

Add the sausages, the minced egg, and stir.

After mixing all the ingredients, add the quinoa little by little over low heat to mix it with the other ingredients.

Add more splashes of soy sauce so that it acquires the peculiar color of chaufa.

Add salt to taste.

Finally, turn off the kitchen and serve.
Enjoy!
Ideal for:
People who are intolerant to gluten.